All CDs ordered here are autographed by Yevgeny Sudbin.
* a small amount (tax) will be added to the order for postage, depending on the destination country

Back to List
Recordings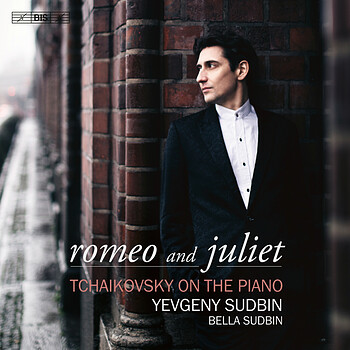 Tchaikovsky: Romeo & Juliet
Released:
November 29, 2022
In his liner notes, Yevgeny Sudbin remembers falling in love with Tchaikovsky's music when he was introduced to classical music. On this album, the pianist presents a collection of piano pieces and arrangements for piano, solo and four hands, of orchestral works by the great Russian composer, preceding it with a curtain raiser much-loved by Tchaikovsky himself: Mikhail Glinka's Overture to Ruslan and Ludmila. The piano pieces selected by Sudbin spans some twenty years of Tchaikovsky's career and takes in the ever-popular Barcarolle (June) and Troika (November) from The Seasons as well as three pieces from the composer's last work for piano, the 18 Pieces, Op. 72. To these are added two waltzes from The Nutcracker and Sleeping Beauty, here performed in four-hand piano arrangements with Sudbin's 12-year-old daughter Bella playing the 'primo' part.
The pièce de resistance of this album, however, is Sudbin's arrangement of the famous overture-fantasy Romeo and Juliet in which the composer, according to Sudbin, 'lays bare his soul and where some of his most incredible music can be found'. To the pianist, the rawness and vulnerability of human emotions' displayed in Tchaikovsky's music is almost unparalleled, something which his own performance here serve to confirm.
Related Links