All CDs ordered here are autographed by Yevgeny Sudbin.
* a small amount (tax) will be added to the order for postage, depending on the destination country

Back to List
Recordings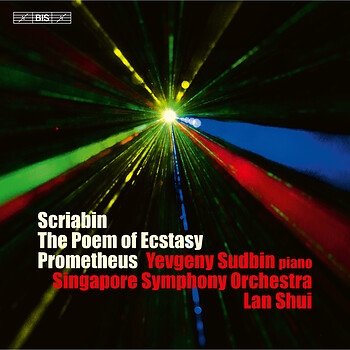 Scriabin Prometheus & Poem of Ecstasy
Performed with the Singapore Symphony Orchestra
Conducted by: Lan Shui
One of the boldest and most radical composers of all time, Alexander Scriabin had a lifelong obsession with occult and mystical ideas. Initially under the influence of Chopin, Wagner and Liszt, his music later became more complex, taking on an expressive power which provoked extreme reactions from audiences – of adulation as well as repulsion. Not shying away from hyperbole, Scriabin once declared: 'I am the apotheosis of creation – I am the aim of all aims – I am the end of all ends.'
The three works featured on this disc belong to Scriabin's final compositional period where the music seems to veer between voluptuous languor and striving energy. Composed back-to-back, the Poem of Ecstasy and the Fifth Piano Sonata are drenched in bitter-sweet harmonies and carefully constructed dissonances. The scores of both works make reference to the same poem – by Scriabin himself – which ends with the lines 'thus the universe resounds with the joyful cry: I AM!'. In his last symphonic poem, Prometheus — The Poem of Fire, Scriabin aims even higher. Here he expresses the evolution of the world from formless chaos, through the appearance of mankind, fertilized by the divine spark, towards spiritual liberation and ultimate transcendence. The unusually large orchestra and a wordless choir produces a kaleidoscope of contrasts, colours and sounds caught up in an ecstatic whirl.
Related Links