All CDs ordered here are autographed by Yevgeny Sudbin.
* a small amount (tax) will be added to the order for postage, depending on the destination country

Back to List
Recordings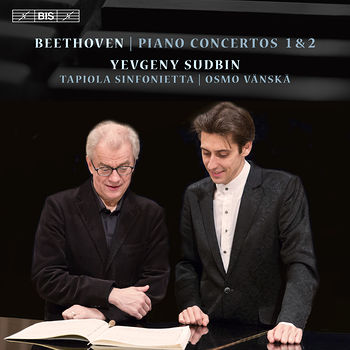 Beethoven Piano Concertos 1&2
Catalog Num:
BIS-SACD-2078
On two previous discs, Yevgeny Sudbin and Osmo Vänskä have released Beethoven's three last piano concertos to critical acclaim. Distinctions include Editor's Choice in Gramophone and top marks from the Italian magazine Musica and the German website Klassik-Heute.de, and performances have been described as 'electrifying' (classicfm.com), 'absolutely stunning' (Fanfare) and 'a Beethoven experience you will not want to miss' (ClassicsToday.com). For the final disc in their cycle, Sudbin and Vänskä have travelled to Helsinki to team up with Tapiola Sinfonietta, one of the top Nordic ensembles, and well suited for these earlier and more classical of Beethoven's concertos. Of the two, the one we now know as the Second was actually begun several years before Concerto No. 1, and indeed even before Beethoven left Bonn for Vienna. During the following decade, Beethoven returned to the score repeatedly and made substantial revisions – including composing a new final movement – and ultimately the C major concerto reached publication first. Both concertos were conceived long before Beethoven's involvement with the symphonic genre, and the influence of Mozart and Haydn is evident in the interaction between the orchestra and the soloist – but Beethoven's individual spirit is nevertheless unmistakeable.
Related Links