All CDs ordered here are autographed by Yevgeny Sudbin.
* a small amount (tax) will be added to the order for postage, depending on the destination country

Back to List
Recordings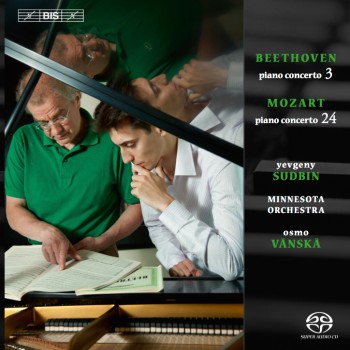 Mozart Piano Concerto no 24 & Beethoven Piano Concerto no 3
Released:
October 28, 2013
Catalog Num:
BIS-SACD-1978
This recording is dadicated to my son, Alik Yi-Xiang Sudbin, who was born shortly after the production was finished - Yevgeny Sudbin
"An unmissable, and often startling, recording." - Classic FM, Classic FM Drive Featured Album
"Both works give the Russian marvel Sudbin ample chances to show himself as a pianist of fresh imagination, strength and elegance." - The Times
In 2010 Yevgeny Sudbin released the first instalment in a cycle of Beethoven's piano concertos. Featuring the Fourth and the Fifth concerto the disc received top marks on web sites such as ClassicsToday.com and klassik-heute.de and was selected CD of the Week in Daily Telegraph and Editor's Choice in Gramophone, whose reviewer wrote 'The mother-of-pearl sheen of [Sudbin's] pianism is backed by a special underlying sensitivity...Delectably light-fingered brilliance and virtuosity shines a new light on some of the most familiar scores in the repertoire...' Other reviewers agreed that there was something very special about these interpretations ('Extraordinarily vibrant and unforced', Piano News) and, not least, about Sudbin's partnership with Osmo Vänskä and the Minnesota Orchestra ('There is a true give-and-take between soloist and orchestra throughout these performances that makes them especially engaging', Listen Magazine). The web site Classical CD Review found Sudbin and Vänskä to be 'ideally matched Beethoven interpreters,' and the French reviewer in Classica agreed, detecting a 'Mozartian flame' in the performances. For this sequel Sudbin and Vänskä go one step further and actually include a Mozart concerto to precede Beethoven's Concerto No.3 in C minor. Also in C minor, Mozart's Concerto No.24, K 491, is often regarded as having been the inspiration for Beethoven's work. The mood of K 491 is dramatic, even Romantic – the concerto was memorably described by the Mozart expert Alfred Einstein as an 'explosion of passion, of dark tragic emotions' – reflecting its proximity to The Marriage of Figaro, which was composed at the same time. Among Mozart's concertos it is one of the most ample, both in terms of scoring and duration, and thus provides an ideal counterweight to Beethoven's Third, which the composers began to sketch in 1796, but only completed eight years later.
Related Links