All CDs ordered here are autographed by Yevgeny Sudbin.
* a small amount (tax) will be added to the order for postage, depending on the destination country

Back to List
Recordings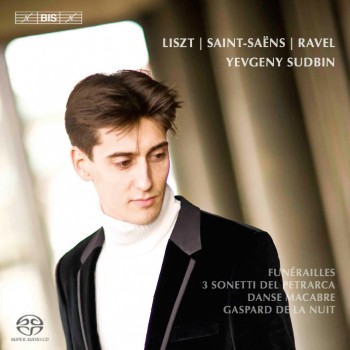 Sudbin plays Liszt, Saint-Saëns, Ravel
Released:
September 20, 2012
Catalog Num:
BIS-SACD-1828
"His Liszt is remarkable. The F minor Transcendental Study's brand of miraculous virtuosity, at once tumultuous and limpid, is marvellously captured. So are the pre-Debussy sonorities of 'Harmonies du soir'; and you won't hear the lingering close of Petrarch Sonnet No. 123 played more simply nor more beautifully." - BBC Music Magazine *****
"In an age of much standardised playing, his performances are vividly personal both in technique and in character...few have carried the richly ornamented vocal lines [of the Petrarch Sonnets] forwards with a more breathless ardour and momentum...then there is Ravel's Gaspard in a performance of rare imaginative resource...This is a record I shall return to for an ever-renewed sense of wonder and fascination." - Gramophone Magazine
"The macabre images of Ravel's Gaspard de la nuit, in which Sudbin's brilliant technical command is allied to limpid, subtle tonal shading and luminosity of texture, are captured with a haunting chill in this performance, and the Saint-Saëns opens up wondrous vistas of colour and atmosphere. This is a truly great disc, inspired and inspiring." - The Daily Telegraph
BIS is proud to present a new disc from star pianist Yevgeny Sudbin who here combines works by Liszt, Ravel and Saint-Saëns under the themes of Love, Delirium and Death.
Funérailles is Liszt's elegy for his Hungarian countrymen who died in the 1849 uprising against Habsburg Rule. Death also appears in Ravel's depiction of a hanging – Le Gibet (The Gallows) from Gaspard de la Nuit – and closes the programme in Saint-Saëns' Danse macabre.
Love is present in the Petrarch Sonnets – originally song settings of poems in which Petrarch immortalises, the object of his unrequited passion – and Ravel's Ondine – the tale of a water nymph tempting a mortal to join her in the depths of the lake.
Delirium is present throughout the disc, especially during the nightmarish portrait of the goblin Scarbo.
Yevgeny Sudbin has received considerable critical acclaim for his recordings on BIS. His disc of music by Scriabin was described in BBC Music Magazine as being 'as terrifyingly changeable and emotionally all-engulfing as the music itself'.
copyright: BIS
Related Links