All CDs ordered here are autographed by Yevgeny Sudbin.
* a small amount (tax) will be added to the order for postage, depending on the destination country

Back to List
Recordings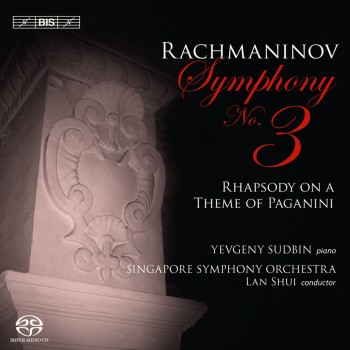 Rachmaninov Paganini & Symphony No. 3
Released:
January 16, 2012
Catalog Num:
BIS-SACD-1988
"This is the most stunning performance of the Rhapsody I've ever heard." - American Record Guide
"Sudbin's playing has terrific presence in this recording of Rachmaninov's Paganini Rhapsody. The blend of personality and stylistic perception that marks Sudbin's live performances is also manifest here. He plays with passion, drive, dexterity, discretion and dynamism...This is a top-flight, richly enjoyable performance" - The Daily Telegraph, *CD of the Week*
"This is as fine a version as one could wish to hear
of this evergreen showpiece." - International Record Review
----------------------------------------------------------------
When Sergei Rachmaninov composed his Rhapsody on a Theme of Paganini in 1934, it was after an almost complete seven-year silence - so complete that he was thought to have renounced composing. Nevertheless, the Rhapsody was finished in only seven weeks, with a speed that was possibly stimulated by Paganini's theme itself; taken from the 24th Caprice for solo violin it had already been used by Schumann, Liszt, Brahms and Szymanowski and is ideal for variation. Rachmaninov's Rhapsody consists of twenty-four continuous variations, of which the 18th has become so popular that it is often included separately in compilations of 'classical favourites'. The variations fall into larger sections, forming a structure which has caused the work to be called 'Rachmaninov's Fifth Piano Concerto'. The soloist on the present recording is Yevgeny Sudbin, whose highly acclaimed discography includes a Rachmaninov solo recital, as well as a recording of the Fourth Piano Concerto described in BBC Music Magazine as an ' exhilarating, barnstorming, spine-tingling performance'.
Related Links