All CDs ordered here are autographed by Yevgeny Sudbin.
* a small amount (tax) will be added to the order for postage, depending on the destination country

Back to List
Recordings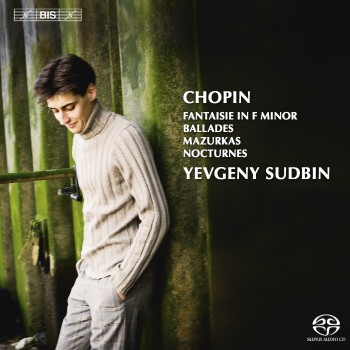 Sudbin plays Chopin
Released:
September 5, 2011
Catalog Num:
BIS-SACD-1838
CD of the WEEK and 5/5 The Telegraph
10/10 Klassik-Heute.de
10/10 ClassicsTodayFrance
RECORDING OF THE MONTH Musicweb International
"This glorious disc confirms Yevgeny Sudbin as one of the most searching and inspired of today's pianists. Each recording that he produces in his continuing series for BIS seems to reveal a new facet of his thought processes and his interpretative intelligence. This is a disc not to be missed. It is a triumph." – The Daily Telegraph, Geoffrey Norris
"Sudbin amplifies Chopin. He never seems disconnected from Chopin's spirit. I know this is extremely high praise; it's meant to be." - Musicweb International, Brian Reinhart
"It is indeed very rare that the qualities of a highly brilliant pianist are joined together in such harmony with his analytical intellect. It is also very rare that such a young pianist has so much to say on so many levels" - Klassik-Heute.de, Peter Cossé
------------------------------------------------------------------
'Chopin's music presents us with a strange paradox' writes Yevgeny Sudbin in his liner notes to this recording. In Sudbin's own experience, the music's direct emotional appeal makes it instantly accessible to most listeners, but to the interpreter 'it becomes a tough balancing act: on the one side, naïvety and blandness threaten, while, on the other side, a laboured and contrived approach could potentially damage the music'. Sudbin's own approach has been influenced by Chopin's own words regarding interpretation: 'Simplicity is the highest goal, achievable when you have overcome all difficulties.' But, as he recounts, he is also fascinated by historic recordings by legends such as Ignaz Friedman and Benno Moiseiwitch – performances which have made an impact on him on account of the highly personal playing: 'the beguiling rhythmic swings, freedom in phrasing, articulation that tickles you all over…' Sudbin opens his own Chopin recital with the expansive Fantaisie in F minor – sometimes described as the composer's 'grandest work' – continuing with a selection of pieces from three genres that are strongly associated with Chopin: Mazurkas, Nocturnes and the Ballades Nos 3 and 4. Following the 2005 release of his second disc, Piano Magazine described Yevgeny Sudbin in lyrical terms as 'a fearless technician with an all-encompassing command of his instrument; a musical dramatist of exceptional acumen and sophistication; a poet who moves seamlessly between unbridled rhetoric and extreme intimacy; a stylist who catches the particular spirit of everything he plays' – all qualities which would seem to be conducive to a memorable Chopin recital, and which Sudbin certainly brings to the fore in the encore À la minute, his own paraphrase on the composer's 'Minute Waltz'.
text copyright: BIS
Related Links