All CDs ordered here are autographed by Yevgeny Sudbin.
* a small amount (tax) will be added to the order for postage, depending on the destination country

Back to List
Recordings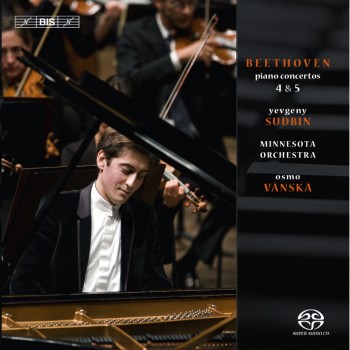 Beethoven Piano Concertos 4&5
Released:
December 10, 2010
Catalog Num:
BIS-SACD-1758
I am dedicating this recording to my daughter, Isabella Yi-Ning Sudbin, who was born while the equipment in the hall was still warm, after we finished recording the concertos. - Yevgeny Sudbin
EDITOR'S CHOICE Gramophone
CD OF THE WEEK 5/5 The Telegraph
10/10 ClassicsToday.com
"Time and again I come away from a Yevgeny Sudbin recital thinking the same thing, that this brilliant young pianist exhibits an infectious hunger for his repertoire. He seems to consume it, occasionally be consumed by it, and his exploration of these concertos seems exactly that, an entirely immersary experience. Thrilling." - GRAMOPHONE, James Inverne
"Sudbin need not fear being heard in the context of pianists who are appreciably further on in their careers...In a crowded field [he] ranks near the top and it will be fascinating to hear how his cycle evolves over the remaining two installments. Highly recommended." - International Record Review
"Sudbin brings delicacy and crystalline articulation to these concertos, creating a sense of classical grace rather than romantic scale... but his aristocratic mien and stylistic assurance...[add] a welcome degree of wit to the fourth concerto's finale and a poise and sparkle to the Emperor." - Financial Times
"Sudbin makes it clear that he has little use for Beethoven weighed down, as it were, with excess baggage...Instead, his delectably light-fingered brilliance and virtuosity shines a new light on some of the most familiar scores in the repertoire...Such mercurial pianism keeps Vänskä and the Minnesota Orchestra on their toes but they follow their soloist as to the manor born." - Gramophone Magazine
Read more about this exciting new concerto series
-------------------------------------------------------------------
How to avoid attracting criticism, hate-mail and having eggs thrown at you? Stay away from recording Beethoven concertos for a start, I was often told.
Since I try not to read reviews and I quite like eggs, I am doing it anyway. In reality, recording this Beethoven cycle is a dream come true for me for many reasons. One of them was that I finally had to face the challenge of overcoming my 'love-hate' relationship with the composer which I had since childhood. It is easy to be afraid of Beethoven. Very afraid. Not only because of the huge legacy of wonderful recordings of the concertos already in existence, but also because from the first day of playing the piano, with Beethoven's music traditions and customs are usually being drilled into one's skull, which are to be observed and religiously followed whatever they are. Nothing wrong with that….at first. In fact deeply rooted respect (though not necessarily fear) for the composer is the necessary seed from which any individuality and original thought later springs to life I believe. Yet 'true authenticity' I feel is often to be found in some of the more 'unusual' performances. But don't just take my word for it: for example, think of some of the old, historical recordings of the great personalities of the past, such as Moiseiwitsch, Hofmann, Kempff, Fischer etc. There, we discover that Beethoven was in fact fallible and human, with many traits that I feel have become less pronounced in some of the more contemporary recordings and that I long felt needed much more emphasis. The intimacy and delicate lyricism of the (in my opinion completely wrongly nicknamed) "Emperor" is so important and all too easy to overlook, given the many runs and at times heavy textures; yet by being less direct and less obviously 'grand', it confers on the piece much greater authority.
The Fourth has always been one of my favourite piano concertos. There are only few other pieces by Beethoven where one can find quite so much wit as in the closing movement, and the opening movement contains some of the most affectionate and loving moments. The opening phrase is possibly the most challenging beginning of any piano concerto, and was the source of many discussions between Osmo & me. Which brings me to the other reason why I am particularly excited about this project: I have long searched for a partner and orchestra with whom I can easily communicate and develop my ideas. With the Minnesota Orchestra and Osmo Vanska as the team, I couldn't have wished for better partners.
text copyright: Yevgeny Sudbin
Related Links