Back to List
Essays
Tchaikovsky on the Piano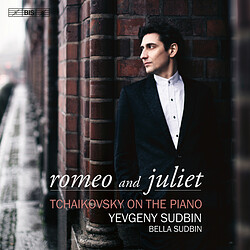 Mikhail Glinka (1804–57) Overture to Ruslan and Ludmila
I have lost count of the times I have had to wait for 'my turn' (often with Tchaikovsky's First Piano Concerto) while the popular curtain-raiser Ruslan and Ludmila Overture was being performed by the orchestra. One such night, I decided 'That's it! I am going to have to find a way to make myself suffer through this piece on the piano, as a token of redemption for my dislike of the fanfares.' Of course this is tongue-in-cheek: the piece is a lot of fun, and besides, there is often a good reason why some pieces are performed more often than others. Unlike the tragic play Romeo and Juliet, this feel-good love story is a classic 'good triumphs over evil' affair, while also drawing on Russian folklore. Glinka was highly admired by Tchaikovsky, almost as highly as Mozart. In fact, Tchaikovsky together with the members of the 'Mighty Bunch' went so far as to call him 'the Father of Russian Music'. According to one account, Tchaikovsky sat down at the piano to perform this overture from memory during the inauguration of the Moscow Conservatory in 1866. My own arrangement follows the original orchestral score closely – with some extra textures added for the fun of it: for some reason, the middle section ended up like a homage to Scarlatti, with its quick repetitions
Pyotr Ilyich Tchaikovsky (1840–93)
Listening for hours non-stop to recordings of Tchaikovsky's music was how I was first introduced to classical music (and fell in love with it). To this day, I am not certain that I can think of any other composer whose music displays the rawness and vulnerability of human emotions to a similar degree. (Perhaps Schumann comes closest, but in a very different way.) Nothing stands in the way of it and this presents certain challenges when it comes to interpretation: as a performer one does 'stand in the way' of the composer and his or her music, like a filter, and not always to the benefit of the work.
Waltz of the Flowers (1892) and Waltz from The Sleeping Beauty (1889), arrangements for piano four hands
Russian ballet was in its full glory in the 19th century and some of Tchaikovsky's most magical and endearing scores can be found in this genre. I therefore decided to arrange a couple of real gems for myself and my 12-year-old daughter Bella to play while we were passing the time during the first lockdown of the pandemic. Playing them provided a ray of sunshine (and some hope) during a grim time that felt like it was never going to end, and I am including them here as bookends to a selection of shorter original compositions.The 'Waltz of the Flowers' comes from the second act of The Nutcracker. The waltz lends itself very well to being transcribed for the piano but the aim was to be as faithful as possible to Tchaikovsky's spirit with the slight temptation to make it 'flowery' on the piano but not overwhelmingly so (with an occasional jazzy element which I hope Tchaikovsky will forgive). With the hands often intertwining, it ended up being a lot of fun to perform. The arrangement of the Waltz from The Sleeping Beauty is in fact closely based on the arrangement for piano four-hands that Tchaikovsky commissioned the 17-year old Rachmaninov to make in 1891. We have adapted it to make it more comfortable (for us), with a few added elements.
Dumka. Russian Rustic Scene, Op. 59 (1886)
'Dumka' (meaning 'thought') is a form of folk song with instrumental accompaniment which Tchaikovsky may have encountered in Ukraine. It comes across as more of a written-down improvisation, and as a genre it is not too dissimilar to Liszt's Hungarian Rhapsodies (in fact Tchaikovsky originally wanted to call his piece 'rhapsody'). The music switches rapidly between a slow, melancholic mood and a quick folk-like dance. The emotional outline of the piece is full of contrasts: an energetic, rustic scene, possibly with a tragic outcome, as is not unusual for a Romantic ballade. The piece was commissioned by the French music publisher Félix Mackar who was hoping for a substantial, virtuosic piece, and Tchaikovsky most certainly delivered.
From The Seasons, Op. 37a (1876)
It is not entirely clear how the title The Seasons came about for the twelve pieces in this group, nor why Op. 37a – or b, which is also seen – was assigned to it (Op. 37 was already taken by the Piano Sonata in G major). Some anecdotes suggest that the work was originally commissioned for a serial publication in the St Petersburg musical magazine Nouvellist throughout the year 1876. Tchaikovsky allegedly instructed his servant to remind him before the deadline of each month that 'it's about time to send something off to St Petersburg, Pyotr Ilyich!' He would then drop anything else he was working on at the time and scribble down something short, trying to represent the character of the month in which the piece was to be published. Not only did the finished pieces end up serving their original purpose perfectly but certain 'months', such as June and November, became so popular that they ended up being heard more frequently in transcription form, rather than the original piano version. 'Troika' (November) starts with an irresistibly catchy theme, appearing slowly from a distance. It is difficult not to imagine a depiction of a Russian peasant dance in the grazioso middle section. 'June' has become one of Tchaikovsky's most familiar works: a Barcarolle in G minor, an enchanting melody above a rocking accompaniment. The poco più mosso middle section quickly develops into a climax with rolling chords, before the memorable G minor theme returns.
Nocturne and Humoresque, Op. 10 (1872)
These Deux morceaux were written during Tchaikovsky's three-week stay in Nice in the winter of 1871–72. He dedicated them to his friend Vladimir Shilovsky. The Humoresque is yet another unmistakably rustic Russian dance, with quirky harmonies and joyfully syncopated rhythms. In stark contrast, the introspective simplicity of the opening melody of the F major Nocturne cuts through like a welcoming ray of sunshine. The middle section does develop into a slightly more agitated affair but, all in all, one finds oneself surrounded by a melancholy which permeates the piece like a warm, gentle glow. As is often the case with Tchaikovsky's earlier compositions, this quality can sometimes be mistaken for superficial naivety, but it is nothing of the kind.
Nocturne in C sharp minor, Op. 19 No. 4 (1873) Like the 'Troika', this famous nocturne is often heard in arrangement (for cello and orchestra, made by the composer for a concert in February 1888) rather than in its original form. It is one of a set of Six Morceaux completed in 1873 in Moscow. Marked Andante sentimentale, it is anything but sentimental. Its simple and honest beauty goes right under your skin, especially in the recapitulation.
From 18 Pieces, Op. 72 (1893)
The 18 Pieces (18 Morceaux), Op. 72, were Tchaikovsky's last works for solo piano. Completed in April 1893 at Klin, these character pieces are absolute gems of the piano repertoire, but feature surprisingly rarely in concert. 'Tendres reproches' (Tender Reproaches) is a poignant piece with a playful middle section, typical of Tchaikovsky's use of (yet again) 'rustic' folk elements. 'Valse à cinq temps' (Waltz in 5/8) is a cheeky affair, unmistakably Russian but exploring the 5/8 rhythm that persists throughout the piece. The piece swirls and swishes around, almost losing its mind (and control) to the perpetual, mercurial motion. 'Chant élégiaque' (Mournful Song), on the other hand, is an expansive song, or – given its introspective nature – rather a memory of a song, soaring high above a vivid Russian landscape and harmonically incredibly varied. It is intimate, like a soft cushion, but occasionally it grows more dramatic and insistent.
Romeo and Juliet 'Overture-Fantasy' (1869/1880)
It has always been my wish to be able to perform some of Tchaikovsky's symphonic works (where he lays bare his soul and where some of his most incredible music can be found) on the piano. I had my eye on the Romeo and Juliet 'Overture-Fantasy' for a long while and it was only a question of finding the time and opportunity to put pen to paper (or rather, hands to the keys; I have to say it was easier to play it than to write it all down). It was Mily Balakirev – another colleague and friend admired by Tchaikovsky – who suggested that he ought to set Shakespeare's play to music. Even though Balakirev went on to criticize the first drafts harshly, Tchaikovsky did in the end dedicate the work to him. Perhaps this was how things were done at the time, but I can't help but feel for the composer and I wonder whether the criticism he received was of any use to him. Another case in point was the pianist Nikolai Rubinstein's damning put-down of his First Piano Concerto, declaring it to be 'worthless' and 'unplayable'. Yet the fame of that work now speaks for itself.
Similarly with Romeo and Juliet: Balakirev declared that the first theme 'conveys neither beauty nor strength'. And as for the main love theme in D flat major – which often appears in romantic movies – he conceded that it was beautiful, but added 'although somewhat overripe'. In spite of all this, Tchaikovsky eventually completed the first version of his 'Overture-Fantasy' in 1869, and the première in Moscow in March 1870 was conducted by none other than Nikolai Rubinstein. It is the third version, from 1880, that is now most often performed and on which I have based my arrangement. This masterpiece became Tchaikovsky's first orchestral work to enter the international concert repertoire. The overall design is that of a symphonic poem (although Tchaikovsky did not wish to call it that), but the composer subtly adapted it to sonata form, with an introduction. I have tried to stay close to the original score, filling out and adding some textures where I felt this was appropriate, without deliberately interfering with the overall architecture of the work. One can sometimes get lost in notes – the piano has a few of those – trying to cram everything in. The danger is often 'over-writing' and thereby imposing oneself on the original. (Less is often more.) In the end, however, the arrangement came together organically rather quickly, and eventually I felt the piece could stand on its own in its piano version – which is a testament to Tchaikovsky's genius.
Some of the themes may have ended up sounding more 'masculine' than in the orchestral version. For instance, the first appearance of the love theme, trying to flow out organically after the tumultuous 'Montagues & Capulets' battles has more of a 'Romeo' flair, with the tenderness of 'Juliet' following shortly after, as the melody ascends in the right-hand triplets. This was deliberate. As the theme keeps returning, Romeo's declaration of eternal love for Juliet becomes more voluptuous, sweeping and almost insistent. Quite a big challenge (aside from trying to get all of the instruments under both hands) presented itself in the chorale-like recapitulation of the slow opening which I am afraid does sound a lot more consequential and meaningful in the orchestra, regardless of what one does on the piano.
© Yevgeny Sudbin 2022
Posted: Mar-30-2023