Back to List
News
July 23, 2008
"Concerto for a Stag Night" by Geoffrey Norris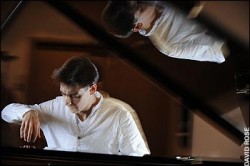 by Geoffrey Norris

Rumour had it that Yevgeny Sudbin postponed his wedding in order to make his BBC Proms debut at the Albert Hall tonight.

"That is a slightly misunderstood story," he gently corrects in his cultivated, Russian-inflected English.

But rumour was not that far off the mark. The wedding is tomorrow, on Italy's Amalfi coast. "I wasn't sure I could do the Proms when the invitation came up," he says, "but my fiancée persuaded me to do it. And we did change the time of the wedding, making it in the evening rather than during the day. I really couldn't have changed the date, because I planned it many months ago."

It might be an unconventional way of throwing a stag party, but tonight Sudbin, aged 28, will mark his last evening of bachelorhood by playing Rachmaninov's First Piano Concerto. Rachmaninov is one of the composers for whom this phenomenally gifted and probingly intelligent pianist has revealed exceptional affinity, though the same could be said of composers as diverse as Domenico Scarlatti and maverick Russian hedonist Skryabin.

Sudbin's CD of Scarlatti sonatas bristles with imagination; a follow-up disc of Skryabin shows him thoroughly immersed in the music's volatile language, a quality that had already been evident in a London recital he gave last year, in which the demonic Ninth Sonata - aptly subtitled Black Mass - was possessed of a satanic terror seldom before experienced.

"I try to be diverse," Sudbin explains. "Even in terms of the Russian music I play, Rachmaninov, Skryabin and [their lesser known contemporary] Nikolay Medtner are all extremely different. Thinking of future repertoire, Chopin will probably play a big part, though with composers who are well known I'll look out for pieces that are not played so much.

"I don't, at the moment, do so many Chopin sonatas, ballades and scherzos, but I like the mazurkas simply because they were standard repertoire in the Twenties and Thirties, but these days people don't play them so often. The essence of Chopin's character is in these works. But the next solo CD will probably be of Haydn sonatas. For a pianist, Haydn is a luxury because, as with Scarlatti, there are not too many instructions in the music. That means that there's scope for interpretation. I think they are very daring pieces as well: Haydn is always on the verge of breaking musical rules."

How, then, does Sudbin react to music in which instructions are explicit, if, in the case of Skryabin, they are highly subjective as well? Skryabin's later music, triggered by his mystical philosophical thinking, is littered with such directions as "with radiant, ecstatic sensuality" and "with a sweetness more and more caressing and corrupt".

"It's quite easy to be obsessed with Skryabin," Sudbin says, "and not just because of his ideas. For pianists, the music is a real treasure. If you have good acoustics and a good piano, sometimes you can really do magic. The things you can achieve with Skryabin's sound-world are not, to my knowledge, possible with many other composers. You can talk about Russianness in Rachmaninov, but with Skryabin it's not so clear-cut. I'm not sure where I'd put him. He sort of transcends."

Sudbin, who studied at the music school in St Petersburg before moving to London in the late Nineties, was given a firm grounding in Rachmaninov's music, but not to the extent of stunting his own inspiration.

"When people talk about tradition in relation to Rachmaninov," he says, "tradition, to me, lies in individuality. I am aware of Rachmaninov's own recordings. They are an important historical document, but in terms of approach I try to find something individual that doesn't contradict the original ideas. Differences are there not for the sake of being different, but because there were such colourful personalities in that period. A performer's own personality has to be a big part. It comes down to balancing that with your understanding of the musical language."

The BBC Proms are featuring all four Rachmaninov concertos, but the First, written in his teens though always played in the 1917 revision, is Sudbin's favourite. "It's the freshest," he says. "It's also full of emotions that a young person would experience, a feeling of anticipation that all of life is before him."

Which rather brings us back to Sudbin's wedding. "The only worry is that I'll be late," he says. "I'll make sure my fiancée comes with me to the concert, and we might have to get married on EasyJet. That would be very different from what I'd planned."